Do you REALLY need a fish finder?
By myfishingoutlet Admin on 0 comments
The best fish finders are going to increase the amount of fish you catch by a lot. The amount of baitfish and underwater structure you're missing with your bare eyes will astonish you.
This might not be too big of a deal when floating clear rivers that are shallow, but on bigger bodies of water, a fish finder is a tool that is needed if you want to consistently catch fish.
A fish finder is a device used by anglers to locate either baitfish, sportfish, or structure in the water. This helps them increase their chances of landing a fish.
Fishfinders work by using SONAR. This relays a picture back up to a screen on the boat that the angler can use to determine if there are any fish or structure in the area that might attract fis
There are several different types of fish finders. Many people have a preference for what they use in the boat. However, each has its own list of pros and cons.
Below, we're going to go over the different types of fish finders. Look over the descriptions below and see which one is going to be the best for you and your fishing style.
Mountable
These are great if you want to put a fish finder on a boat. This could a drift boat, bass boat, pontoon, or even a kayak They will come with brackets that you can use to attach anywhere you wish.
These are great because they offer a secure way to keep watch of the fish finder. So, if you wind up hitting any chop or any bumps in the water you know that you're fishfinder won't go flying off the side of the boat.
Fixed
This is going to be similar to mountable. Or, it could even be the exact same thing. Often times mountable fish finders are considered fixed since they cannot be moved once you have installed them.
Again, these are great for when you want to have a spot on your boat that always gas a fish finder on it. Allowing you to easily glance over and see what may be beneath you.
Portable
A portable fish finder is ideal for someone who doesn't have a boat. Instead, they have a small boat, kayak, or canoe. This allows you to easily grab and go.
Portable fish finders often have temporary brackets on them. This way you can mount them on your boat and then you can easily remove them when you are done for the day.
Handheld
These are typically used for ice fishing. Or it can be used went making out an inflatable raft or float tube. Something that does not have an area where you could mount a fish finder.
These are usually cheaper but can be a great asset for anglers who don't have a boat with a mount but still want to be able to utilize a fish finder for their time out on the water.
Castable
These are relatively new in the fishing world. You can cast them out with a fly rod and reel and they work exactly like a fish fender would on a boat. Except you can pick exactly where you want to look.
These are great for shore anglers who want to know how deep an area is in front of them. Or for anglers who have kayaks and canoes who are floating a river. This allows them to see what is ahead of them before passing over.
When To Use a Fish Finder?
You can use a fish finder in just about any scenario you can think of. If fishing from the shore in a small bass pond then you can use the castable fish finder. This can only benefit you.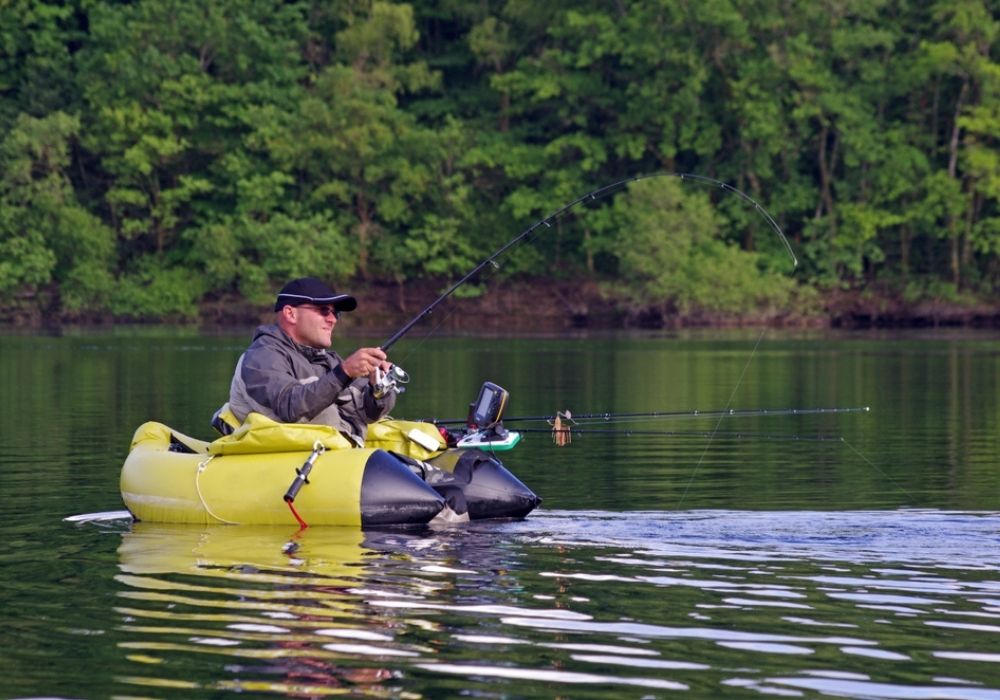 Ideally, the best time to use one is when you are fishing in deeper water where you cant see the bottom. This helps you find fish as well as structure. So deeper rivers, lakes, and saltwater are ideal for using a fish finder.Do You Really Need a Fish Finder?
The short answer is no. You do not need a fish finder. That being said, it is only going t help you. There is a whole world beneath your boat and a fish finder will help you see it.
Whether it be baitfish, beds, structure, drop-offs, or a weed line. The fish finder will help you see all of these spots that the naked eye could miss but the fish are drawn to.
5 Best Fish Finders
Below, we're going to go over five different fish finders. All of them are going to help you catch fish, but each has its own list of pros and cons that meet different angling needs.
So, take a close look at the list below and then think about what you need for your own fishing trip. Chances are the fish finder you need is going to be in the list below. Check it out and see!
1. Hummin Bird Helix 7
Pros  – Great down imaging.
Cons –  Transducer cannot be used on a trolling motor
For the price, this might be one of the best products on the list. Making it great for someone who is looking to get a solid fishfinder without spending too much money.
The accurate down imaging is phenomenal. Allowing you to locate exactly where you want to fish every single time. Making you a more efficient angler.
The Hummin Bird Helix 7 shows, depth, water temp, speed, coordinates, time and can also allow you to save fishing spots. So if you find a good brush pile but no fish are on it then you can save it for later.
Product Specifications
Seven inch screen
800H X 480V resolution and display
Mega down imaging down to 125 feet
Includes transducer, mounting hardware, power cable and mounting bracket
Dual Spectrum Chirp
2. Lowrance Hook 2
Pros – Easy to use with a wide coverage
Cons – Maps load very slowly
The Lowrance Hook 2 fish finder is very easy to use. It has an auto tuning sonar, and a phone like menu so you can easily navigate through the product and locate whatever it is that you need.
The wide-angle sonar gives you double the range of traditional sonar. Allowing you to see more of the bottom of the body of water you are fishing. Giving you an edge over most.
It is also very easy to set up. Put it on the transom, trolling motor, or the hull. The easy mounting makes it ideal for putting it on either a canoe or a kayak.
Product Specifications
Auto Tuning Sonar
Down Imaging up to 300 feet
4000 pre loaded lake maps
Comes with transducer
Micro Sd Slot
CHIRP
GPS
3. Lowrance Hook 5
Pros – Fish are very clear and easy to see. High end maps
Cons – Can take some time to learn all of the features
The Lowrance Hook 5 is the nicer version of the Hook 2 that we mentioned above. it is incredibly clear. Making it very easy to spot fish, vegetation and the bottom of the lake that you're fishing
Similar to the Hook 2 there over 4000 pre-loaded maps onto this unit. Making it great for taking it to just about any major body of water in the US.
The five inch display wont blow you away with its size but it's big enough to allow to allow you to spot fish with ease, and to reads maps so you know where you're going and where you have been.
Product Specifications
Fishreveal makes for easy viewing
CHIRP Sonar
High Resolution
Down Scan
Splitshot transducer
Auto tuning Sonar
4. Simrad Go 7
Pros – Easy to use. Smart reveal technology makes it easy to see
Cons – The unit can sometimes freeze up
Simrad is not one of the better known names, but they still make a great product. The Simrad Go 7 has an easy to use multi touch interface. Allowing you to figure out exactly where and what you want to see on the screen.
This unit has CHIRP sonar, side and down imaging. Allowing you the opportunity to see everything you want to either beneath or on the side of your boat. This is a very versatile unit.
It has both a flush or bracket mount display. Meaning you can put this almost anywhere eon your boat or vessel of your choosing. It's also easy to install.
Product Specifications
Easy touch multi use interface
Fully featured chart plotter
Flush or bracket mount display
Widescreen with bright LED light
10HZ GPS Receiver
Wireless connectivity
Dual Micro SD Slots
5. Raymarine Axion 7
Pros – Extremely fast. Built in WiFi
Cons – Smaller screen can be tough to read
The multi-touch interface system makes this a very easy product to use. No long er do you have to spend half your day out fishing messing with your electronics trying to figure out how to get to your favorite spot.
The Raymarine Axion 7 unit also features maps of over 20,000 lakes, rivers, and ponds. Making this great for the North American angler who wants to travel the continent to find the best fishing possible.
The built in wifi even lets you control the unit from your phone. You could be sitting in the backseat and can pull up a map for the driver who is sitting in front. Easy to use and efficient.
Product Pecifications
CHIRP Sonar
CHIRP Down Vision
Built in WiFi
Quad Core Processor makes for fast performance
20,000 lakes and rivers from North America Mapped out
Surface mounting kit
mounting hardware
Features of the Best Fish Finders
Below, we're going to cover some of the best features of each fish finder. Take a look and see which features are going to work best for you and how you prefer to fish.
GPS Integrated
This is great if you plan on fishing in a very large body of water. Whether it be a lake or the ocean, GPS integration is going to allow you to find spots that hold fish over and over again.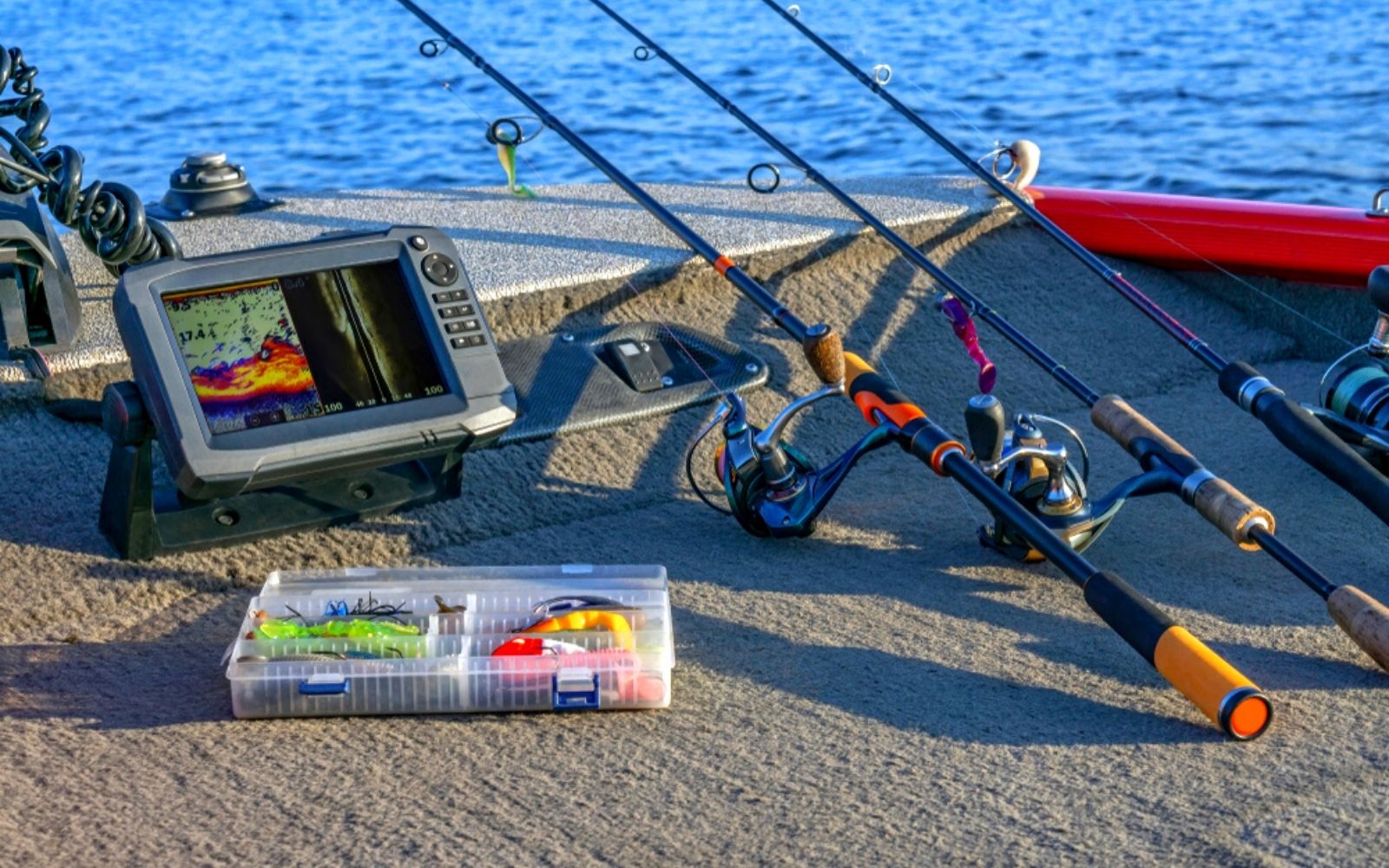 Also, the GPS will help when getting home too. This is ideal when fishing in a new body of water. Nothing worse than being tired at the end of the day and getting lost out on the water.
Cone Angle
Most people don't know what a cone angle is on a fish finder. This is the area that the fish finder will cover on the bottom of the body of water. Usually, it's measure by degrees, however, most people just refer to their cone angle as good, efficient, or effective.
What it looks like is an upside won ice cream cone of sound that gets shot out from the fish finder to the bottom of the water. Most are usually around 10-20 degrees.
Side Scan Vs. Down Scan
Down scan allows you to see what's directly beneath the boat. This is ideal when fishing deep water so you can drop a lure off the side of the boat or guess what the depth of the water is in front of you.
Side-scan allows you to see an area that is off to the side of the boat. How far away from will depend on the maker of the fishfinder. Having both the side and down scan is ideal.
Mounting Type
There are a couple of different mount types for fish finders. There can be bracket mounts that will screw into the boat or onto a platform that will hold it in place. Making it a fixed mount.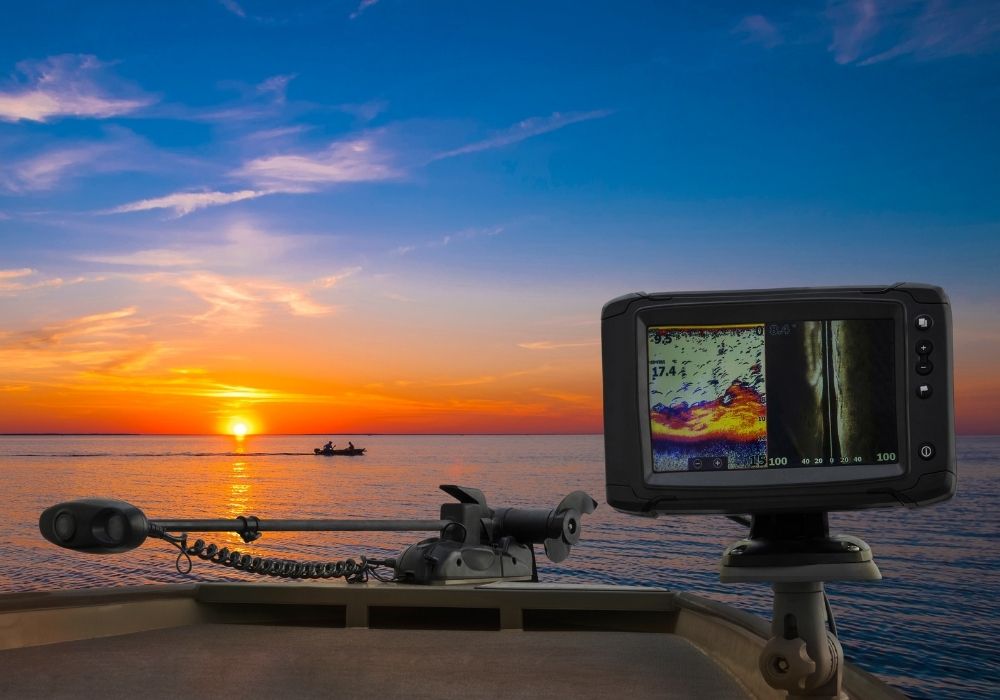 Or there are types where a mount is screwed or drilled into the boat and then the fish finder is clicked into place. This is great for someone who wants to remove their finder when they the boat.
Vessel Specific Fish Finders
The removable fish finders are best used for drift boats, canoes, or kayaks. That way you can easily switch them out between different vessels and can take them out for safekeeping.
The fixed and mounted are best used on larger boats. Such as bass boats or pontoons, or any other type of boat that you plan on taking out to larger bodies of water.
Transducer
A transducer is going to send and receive signals for the fish finder. It is the heart of the echosounder system. Without it, the fish finder would not work and you'd be stuck with a blank screen.
Display
Displays will vary based on the size of the fish finder and the quality with which it is made. A well-made fish finder is going to have a much more clear display making it easier to see and read in low light or high light conditions.
A smaller screen or a cheaper fish finder will not be as clear. Leading to potential misreading or mistakes when reading the fish finder.
Frequency
The frequency on fish finders will usually range from 15hz to 200hz. However, you will find that the majority of the fish finders out there will either be using 50hz or 200hz.
There are some that even use 400hz. However, that is very rare. 15hz is best used to help locate large schools of fish or baitfish. The 200 Hz is used to find the exact location of the fish.
Who Makes the Best Fish Finders?
Below, we're going to go over four different brands of fish finder that we deem to be some of the best out there. Each company makes a great product so make sure to check them out and see which one you like best.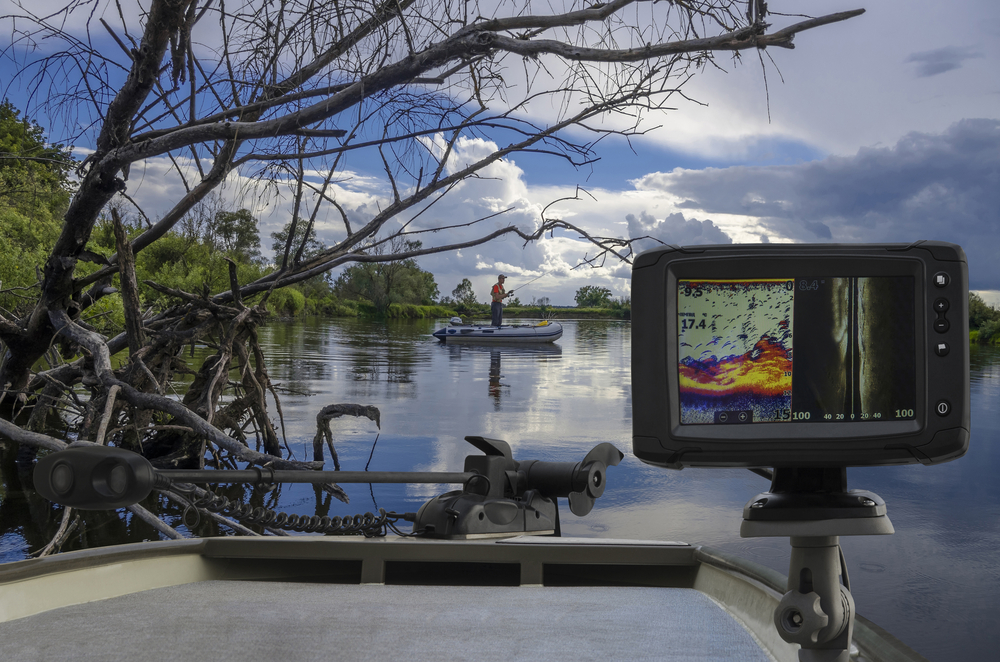 Before you go too deep though you should think about what you need in a fish finder and then apply that to the list. This will help you determine which one is best going to suit your fishing needs.
Humminbird
Humminbird is one of the most well-known names in the world of fishing. They make great products and their fish finders certainly reflect it. They also make a wide range of fish finders. Suiting every need.
They have some of the best sonar out there and give you some of the clearest imaging. Most of their products also come with very accurate lake maps and charts. So you can always know where you are fishing.
Garmin
Similar to the Humminbird, Garmin fishfinder also makes great electronics used for fishing. Their fish finders are top notch and any angler would be happy to have one strapped to the bow of the boat.
They are a relatively new company to the fish finder world, starting in 1989. Don't let that deter you though. They have the same drive and passion for creating great electronics.
Lowrance
This is the oldest company on this list. Starting in 1957, Lowrance has been leading the way in fishing electronics. They may have started over sixty years ago, but they have kept up with the times and the technology they use shows.
They were even the first company to create the HD multi-function screen. They are always seeking to find the latest and greatest forms of tech that they can apply to their very own products.
Raymarine
It doesn't matter if you want down the vision, side vision, real vision 3d, or chirp sonar. Raymarine has a product for you that will meet just about every need you could think of.
They make sonar for both fresh and saltwater. So you can have a completely versatile fishing experience. Allowing you to spend more time catching fish and less time reading electronics.